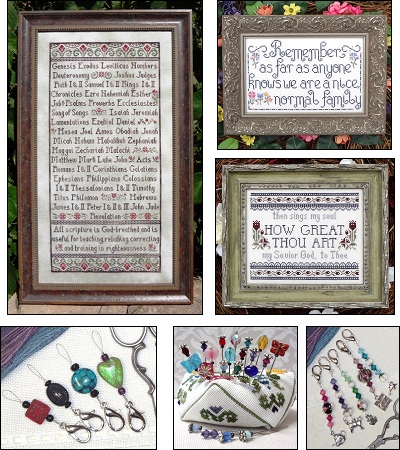 Welcome to the My Big Toe Designs website! Here you will find counted thread patterns and needlework accessories that are sure to delight. Our cross-stitch designs were born out of a desire for quick-to-stitch, Bible based cross-stitch patterns and have grown into a selection ranging from small and sassy to large and elegant.

Our line of specialty accessories is great to aid stitchers of all levels. The scissor fobs, thread hoppers, pickers, needle threaders, and marking pins are of high quality materials and workmanship. We use Swarovski Crystal beads, semi-precious stones, and Czech glass to make most of our accessories.

Our items can be purchased through your local needlework shop. If you do not have a favorite shop, please contact us and we will refer you to one who can get you the items quickly.

All of our charts are printed with large, clear symbols, in a size geared for the average stitcher's visual comfort. If you have a special need for a larger print chart, we are happy to work with you and your shop owner to provide a large format chart for a small additional cost.

Please enjoy browsing our site and contact us if we can help in any way!

Come visit the My Big Toe Designs blog!